The much-maligned Leinster football championship is well in the rear-view mirror at this point. No harm, as the Leinster football championship is no place for granular, in-depth analysis anymore. 
"So, why did Dublin beat Meath today?"
"Eh, well kickouts, blah, blah, blah, great pressure on the opposition kicker, blah, blah, blah, great use of the ball…*brief silence*… eh, could you be bothered with this? When is the ad break?" 
No, the Leinster football championship is better suited to the bigger macro questions and anguished philosophical ruminations. Namely, the futility of existence, the nature of allegiance, the point of competitive sport and the dangers of catastrophic success. 
No one anymore entertains the notion that anyone bar the team in blue and navy is going to win the province, except perhaps for some people in the capital.
The only people who come out with folksy blather about 'Meath not fearing the Dubs' are Dubs themselves
The Dubs are the only ones with the heart and enthusiasm to act as 'hype-man' for the province. The only people who come out with folksy blather about 'Meath not fearing the Dubs' are Dubs themselves.
Former Dublin Lord Mayor Nial Ring insisted on 'Today with Claire Byrne' last week that Mickey Harte's arrival in Louth (playing in Division 4 next year) was a harbinger of a new era of competitiveness in the province. 
As far as Leinster goes, conscientious Dublin GAA people nowadays give off the same vibe as an over-competitive parent who feels slightly guilty at having raced into a 9-0 lead in a FussBall game, and is now trying to convince their despondent kid to continue playing.
"Ah Nathan, c'mon, you can still win this, it's not over… Nathan, put down the Playstation controller/ pint and come back to the table… C'mon Nathan, it's only 9-0, you're supposed to get to 10."
By contrast, non-Dubs in Leinster are currently borrowing from the tenets and thinking of the Revolutionary Communist Party.
The RCP – a curious little sect in British politics – held that the path to socialism lay in pushing capitalism to such extremes that it inevitably provoked its own backlash.
"I hope Dublin beat Mayo in the final by 25 points after beating Cavan by 39, so we can cut to the chase," one non-Dub said to me after the Leinster final.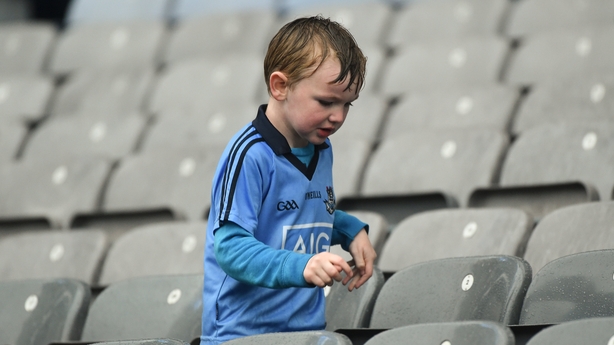 Perhaps this is the medium-term future for the All-Ireland football championship.
Dublin fans, wary of the surrounding narrative, wincing every time their team runs up the score against some country team, continuing to riddle their body with bullets long after they're dead and long after those watching at home have switched over to the darts.
Meanwhile, fans of those same country teams sit there laughing maniacally as their side is ground remorselessly into the dirt for the 756th time in a row. They sit there, happily supping pints and wallowing majestically in the sheer farce of it all. 
This could be the Leinster championship going forward.
Some executives in the GAA might worry that this is not an entirely healthy situation from a competitive standpoint – though they'd be slow to ruminate on it publicly – but there is potential in it all the same. We can imagine reporters from Vice and the Bleacher Report arriving from the US to cover this strange competition where fans cheer the opposition scores and slump into their chairs when their own team scores. It could become a global curiosity of the type that Transworld Sport used to cover back in the day. 
Many have suggested doing away with the provincial championships altogether. This clarion call typically rises to a deafening crescendo in the immediate aftermath of the Leinster football final and then collapses to a whisper after Roscommon win Connacht or Cavan win Ulster the following day.  
It seems a strange remedy for the problem of player apathy in lower and middle ranked counties, to do away with their only achievable shot at championship silverware. One finds it hard to imagine Cavan players weeping with joy after topping Pool C in All-Ireland football championship/Champions League group phase.  
The rest of Leinster, of course, has more or less abandoned the dream of championship silverware. This is the crux of the issue. 
We need your consent to load this YouTube contentWe use YouTube to manage extra content that can set cookies on your device and collect data about your activity. Please review their details and accept them to load the content.Manage Preferences
Listen to the RTÉ GAA Podcast at Apple Podcasts, Soundcloud, Spotify, or wherever you get your podcasts.
People who have paid close attention will have noticed the level of militancy around what we will delicately call 'the Dublin issue' is at a far more advanced and intense stage in the 'rest of Leinster' than it is outside the province.
Rather worryingly for the association, this is not confined to supporters and angry journalists but has spread to the actual players, as evidenced by a number of tweets on the subject last week.
In the aftermath of these regular beatings, Dublin fans often express disappointment in the rest of Leinster, disappointment at their attitude. They are disappointed, in particular, with Meath.
All sides agree that Dublin-Meath games are no craic anymore. It would be a tall order to argue otherwise.
Even the nature of the slagging has changed. 
Back in the heyday of the rivalry it was all jeering of Meath's ample cast of pantomime villain players followed by a joyous burst of 'Wayhey, We know where your farm is, we know where you farm is, La La La La."
Now there's a far more concerned, panicky note to the abuse.
"What the hell is wrong with you? Why won't you give us a game? *grips Meath's lifeless body by the lapels* THEY'RE GOING TO SPLIT US IN TWO! WHY WON'T YOU GIVE US A F****N' GAME?"
Martin McHugh had a rather intriguing, if leftfield, theory a few years ago that the Celtic Tiger destroyed Meath football because all the hardy farmers produced sons who went off to work for Deloitte and got soft. That Meath football had foundered on the altar of desks jobs in accountancy firms. Quite where the modern ascension of Dublin football fits into this parable is anyone's guess but perhaps it's a separate question entirely.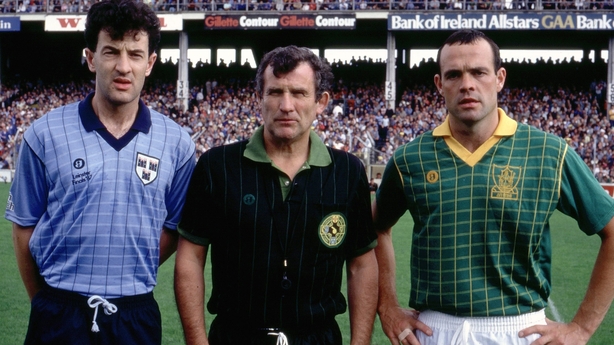 Where is the spirit of Mick Lyons, people ask. The granite-jawed full-back from Summerhill was the embodiment of culchie defiance against the Dubs, the ultimate symbol of Meath triumphalism. 
As it happens, I bumped into Mick Lyons with a friend outside the chipper near Croke Park after a League final some years ago.
"What d'you think of the game, Mick?" my friend asked. 
"If the pick of Leinster joined together, they wouldn't get close to the Dubs," he said quickly, before hopping in a car with one of his mates. 
So, that's where that spirit lies currently. 
Many solutions are peddled, most found wanting for some reason or other. There is consensus that help is needed, whether financial or strategic, for the rest of Leinster in particular. Similar to the kind of targeted work that was done in the capital when the region was regarded as the association's problem child in the late 90s/early 00s.
Most Dublin fans agree on this point although they'd obviously rather not see their financial support fall off a cliff. ("The point Nathan, is to bring up your FussBall level, not to drag me down")
But Dublin fans still resent that their every crushing victory is the cue for another state-of-the-game debate. This is understandable. 
We're facing into the All-Ireland series again. Dubliners these days have more time for the moral fibre of those from Munster, Connacht and Ulster as opposed to their easily-discouraged Leinster brethren.   
The only time you'll hear a Dublin fan saying a kind word about Mayo nowadays is when the conversation is around Leinster football, and they offer some grudging words of respect to the westerners, that at least they can put it up to them. 
Mickey Graham has worked wonders in the past but an 1/100 shout looks a tall order even for him. 
Dublin supporters, meanwhile, can reflect on the curious situation that some of their biggest enemies are hoping they win big – very big – at the weekend. 
Follow Dublin v Cavan and Mayo v Tipperary this weekend via our liveblogs on RTÉ.ie/sport and the RTÉ News app, watch live on RTÉ2 and the RTÉ Player or listen to commentary on RTÉ Radio 1.